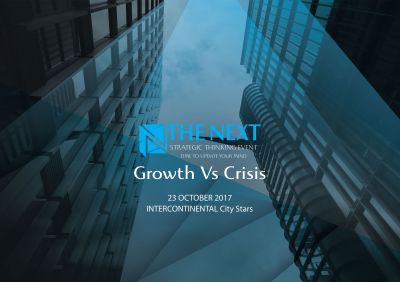 "Strategic Thinking – Growth vs. Crisis" is the first conference on strategic thinking in Egypt that will be held on the 23rd of October in the Intercontinental City Stars Hotel – Cairo.
The conference will gather a wide range of global, Arab and Egyptian experts to put forth solutions and develop strategies, in order to create a sustainable business model capable of achieving growth in times of crises.
Learn about the means of creating a successful and profitable business model and explore new practices on how to overcome a crisis and take a leap forward.
The conference will also give you the opportunity to know more about global strategy practices, crisis management techniques, role of R&D in achieving growth and organizations' strategic transformations.
Furthermore, the conference will shed light on methods of creating a sharing economy and how to choose the right business partner, in addition to discussing means of creating an accurate forecast and setting KPIs for your business.
Join us and share your experience with experts, CEOs, consultants, decision-makers, marketing and sales directors, business pioneers, and SMEs owners.
Book your ticket now: https://goo.gl/forms/4Xzo43BSaheI9RHH3
For more information please contact:
STP - Strategic Thinking Conference
02 37480489
01020406111
info@stpcode.com
www.stpcode.com/The-Next/